Coaching early in the year helps you create realistic business goals by considering market trends and customer needs. It allows you to optimize processes and ensure that your operations align with your goals for the rest of the year. Q1 is also an ideal time for productivity training and improving employee efficiency. Q1 provides a great opportunity for business owners to set a solid foundation for the rest of the year. With a coach's help, you can assess your business's current needs and create a comprehensive plan that works for your goals, strategies, and budget. This plan will then provide a roadmap for your business for the rest of the year and ensure they are always aligned with your priorities. Here are some specific ways investing in business coaching in Q1 help set you apart and set up your business for success:
Plan your year with the right support:
Investing in business coaching in the first quarter of the year is a crucial move for any business owner who wants to stay ahead of the competition and reach their goals. A coach can provide valuable insights and expertise to help you make informed decisions, resulting in a more successful and profitable business. A lot of business owners make decisions based on past experiences and gut instincts. That's incredibly risky and often leads to poor results. It's much better to work instead with an experienced business coach who has a deep understanding of your industry, market, and competitors. With their guidance, you can make data-driven decisions that increase your chances of success and reduce the risk of failure while also getting your team aligned & committed to the entire plan. A good coach also provides a fresh perspective and new ideas, helping you to adapt to changes in your market and stay ahead of your competitors. They understand the big picture and offer personalized recommendations based on their experience, ensuring that your business is always moving in the right direction. Having an experienced coach with you when planning out your year can be invaluable to pressure test each component. With their help, you can create a strategy for success and confidently move forward with your business.
Improved strategy and decision-making:
Unrealistic business goals set in Q1 can become the biggest source of chaos for small business owners in Q3 and Q4. This is often a direct result of making decisions without proper insight into the market competitors and customers, resulting in goals that are difficult or even impossible to achieve which are often counterproductive to the entire organization and worse, demotivating. As business operations continue throughout the year, these unrealistic goals can cause you, as a business owner, to become overwhelmed trying to keep up with them while you struggle with a lack of resources, personnel, and strategy. If you fail to recalibrate your goals as conditions change throughout the year, this only increases your chances of chaos in q3 and q4 as you and your team attempt to catch up with what was initially a poor plan. Business coaching early on in the year can help you form realistic plans that consider external factors such as market trends and customer needs. With coaching assistance, you can gain insight into both their market competitors and customers to create a plan specifically designed for achieving desired outcomes. Coaching during Q1, therefore, provides you with a competitive edge for predicting long-term success – an invaluable resource that could save you from descending into chaos later in the year.
Optimize processes early:
Starting business coaching in Q1 is essential to guarantee that your operations will coincide with your newly set goals. With a clearer understanding of the resources available and the required actions needed to reach those goals, you can refine existing operational processes according to what you need to achieve your goals without burning out in the process and help the team understand "why" these changes are necessary Once the high of goal setting wears off and you start running out of energy, things start to unravel quickly. When the right processes are set, and the people are in the right roles, you don't need to expend all your energy to keep our employees productive. It's when you don't have the systems or the right people in the right roles that the business relies heavily on your energy. This is the biggest reason most small businesses struggle to hit their goals in Q2 and Q3 and then scramble in Q4 in a mad rush to achieve them or just give up and prepare to do the same thing AGAIN for the next year. Working with a business coach and setting the right processes from the beginning is the easiest way to prevent this. Processes and systems can still keep everyone on track when you, as a leader, start losing energy and need a break.
Increase efficiency
Q1 is the ideal time for business owners to invest in productivity training for their employees. As most people are already setting new year's resolutions and looking for ways to improve themselves, productivity training during the first quarter of the year allows business owners to capitalize on this mindset shift and help their employees prioritize goals that will benefit both their personal lives and business operations. Employees are also mentally more willing to change, accept more responsibility, and are excited about new challenges. By allowing teams to practice new methods throughout the year rather than waiting for the busiest periods of business, business owners can see longer-term results from these efforts.
Plan your budget:
When planning your budget for the year in Q1, a business coach can help you prioritize your resources and allocate them to the right strategies. With their guidance, you can make sure that you are investing your money in the right things, avoiding costly mistakes, and maximizing your ROI. A good coach will also help you identify and eliminate inefficiencies and cost leaks that could be hurting your bottom line. By streamlining your processes and improving your financial management in Q1, you can reduce your expenses and increase your profits throughout the year, setting your business on a path to long-term success. Investing in coaching right from the start, and allocating a budget for it, can save you a lot of money in the long run.
Capitalize on the fresh start:
Capitalizing on the sense of fresh start the new year brings is critical. Especially if your organization has faced challenges in the past which led team members to wonder whether you are "serious this time" about the plan. With the help of a coach, you can put those challenges behind you and set a positive tone for the new year. This can help you and your team move forward with a renewed sense of energy and purpose, ready to tackle new challenges and opportunities. A good business coach can also help employees put past issues behind them and embrace change with a positive attitude. A coach can provide guidance, support, and encouragement, helping employees to develop new skills, take on new responsibilities, and grow as individuals. When you communicate your vision to your employees in this context, they would be a lot more receptive to it and have a lot more energy to help you execute it. You can get started today by downloading our free business growth strategies guide, which gives you a 5 step strategy to build a plan to cut through the chaos, clarify your focus, and scale your business fast.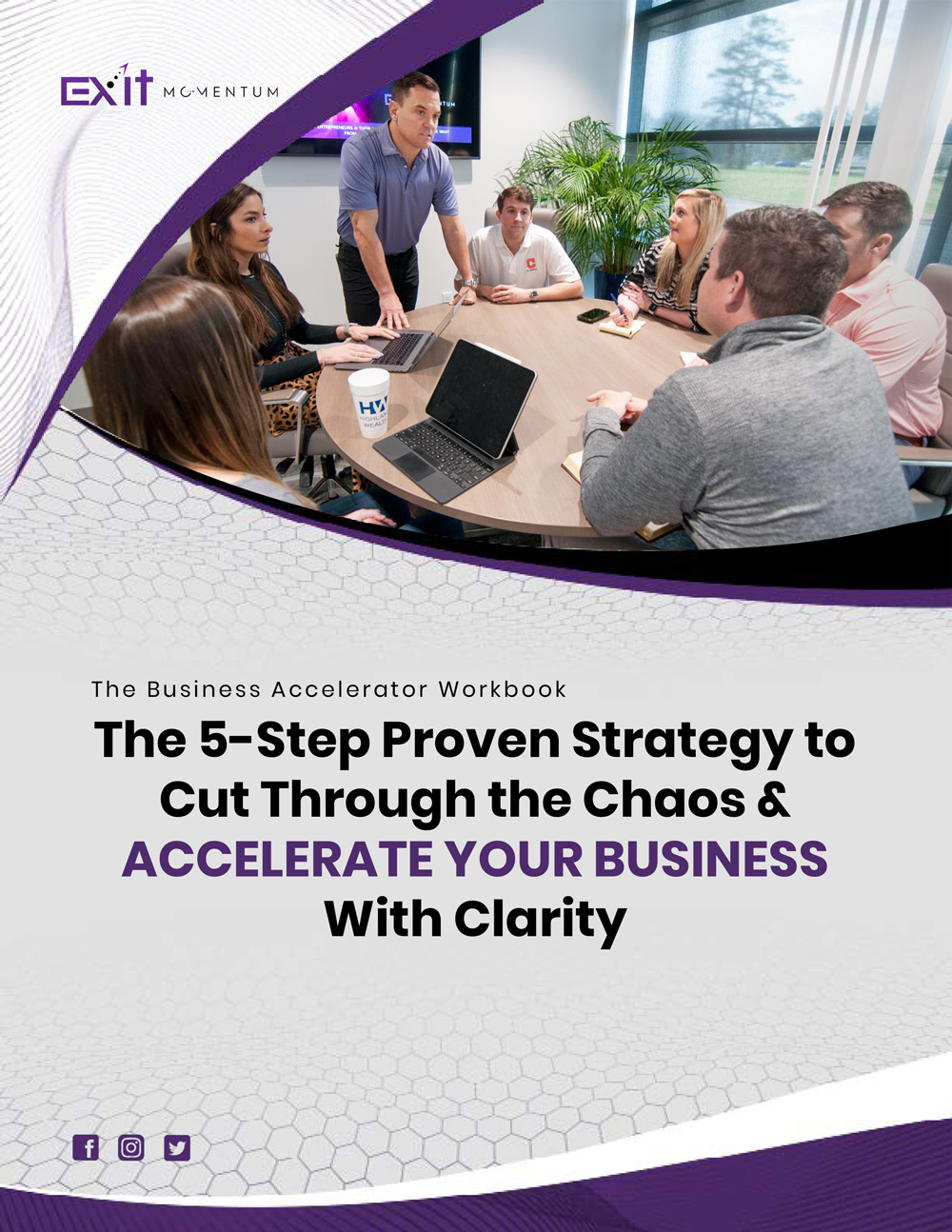 Free Business Growth Strategies Guide!
5 Steps to Cut Through the Chaos, Clarify Your Focus, & Scale Your Business Fast
Not sure where to start? These 5 simple-yet-powerful steps will help you get a grip on your business, so you can start growing from a place of clarity, focus, and strategy.