No doubt about it—you've built a successful company. You've poured your time, energy, and sanity into reaching a level of achievement most entrepreneurs never attain. That doesn't mean you can't use help.
A good business coach can make a massive impact, even for your successful business. For example, they can focus your growth to be more sustainable, build processes that are scalable, help you become a better leader, communicate your vision with clarity, and build and retain a rockstar team. Most importantly, they can help you achieve growth and scale faster than you could on your own. 
Most people think having a successful business that generates steady profit  is the end goal. 
If you are here, then you know that's not true. You know that just because you are not a small business anymore does not mean your business is still not at risk of failing. 50% of the Fortune 500 companies that existed 20 years ago are gone today. You know you're not safe just because you've kept your head above water so far. 
The fact is, creating steady profit is only the beginning. You want something more—more freedom, more alignment with your vision, and more ability to shift from your own most stressed-out employee… to a true leader of a highly scalable company. 
Finding the right business coach is the key to taking your successful business to the next level. 
As a Successful Business Owner, You May Already Have One or More of the Following:
Steady Sales & Revenue
Your business generates steady sales without major ups and downs. You may be able to predict your revenue trends and are able to make decisions based on that information. You have (at least some) sales and marketing systems in place that are bringing in revenue at a predictable, steady rate.
However, you're ready to not just make more sales—but make more profits. You want consistent cash flow, more discretionary funds to invest back into the business, and ultimately, more financial freedom.
Team of Talented Employees
You've worked hard to fill your team with talented people. You feel grateful to have them on board and you are willing to pay well to keep them happy and performing.
Even with a great group of employees though, you still feel like you're doing more than your fair share of work in the company. You want to develop a leadership team that allows you to move away from the day-to-day operations to think about the growth and success of your business.
Systems and Processes
You have some systems and processes in place. You're generally able to put out any fires that pop up. Most days you can handle it.
On some days it feels like… a lot more than you bargained for. You see other companies in your industry running like well-oiled machines, and want that in your own business. You want to streamline your company in such a way that it can run effectively with or without you needing to be present.
With Growth Comes Challenges
Systems Need Upgrading
The systems that are running your business were created during a time of chaotic growth. It served you well to get you where you are now, but it's no longer enough. To get to the next level, you need systems that can take you there.
Right now, you likely don't even know what systems you need. You're feeling overwhelmed by the daily demands of your business, and you just know you want an easier, more streamlined approach to your growth.
This is especially true in regards to the time it takes to train new employees. You know you need to hire, but you don't have the right systems in place to train someone quickly—so you dread bringing new talent into your company, even though you know that's what's needed to scale. Without these important processes in place, hiring feels too slow and expensive to be "worth it."
Teams Become More Unwieldy
Even if your employees are talented individuals, they may not be as effective in their positions as you hoped they would be. In many cases, successful businesses see power players stuck in the wrong roles, or bogged down by extraneous responsibilities. The reality is, you have a few team members you care about personally… but you know you need to cut them loose for the greater good of your company's growth.
You can sense that you need to hire and continue (or start) building out an independently thinking and acting leadership team. But you don't have a way to scale this effort. You don't have a strategy for attracting, training, and onboarding the right people—people who are aligned with your vision and your company values.
If you're like most business owners, you probably blindly promoted your best people to the most critical roles. You did not take the time to assess whether this was truly the right role for them, and whether they actually have the skills and desire to lead.
You put them where the problem was, not where they would shine. So your team is working hard—but not at their best.
Processes Start Breaking Down
The systems you set up rely a little too much on you. You may have trained some management, but they still require your input for every decision being made within the company. That doesn't mean your problem is with your team as individual people though—often, the real culprit is the processes those people have been trained (whether intentionally or unintentionally) to work within.
If you feel trapped in your "successful" business, your processes need to be examined, evaluated, and reworked from the ground up. You need to build processes for the company you want, not the business you have.
So How Can A Business Coach Help Your Successful Business?
The only way to ensure continued success is to prioritize continued growth, sustainability, and scalability.
A good business coach can help you streamline your business and grow sustainably. Here's how a good business coach can impact your business:
Grow Faster
You've gotten your business this far through hard work and sheer force of will. You can continue to white-knuckle your way to greater success. But if you're like most business owners at this point, you're likely exhausted (or even verging on burnout). Your business feels successful on paper, but things are still a mess behind the scenes.
More growth won't solve that mess. More money won't make the chaos go away. At this point, attempts at scaling will only amplify the chaos and add to your stress.
But this chaos isn't 100% your fault—and you don't have to stay on this rollercoaster. You haven't had guidance. You haven't had direction. You still built up this business to where it is today. Imagine what you can do with support, mentorship, and third-party perspective from an expert outside of your organization.
A good coach can help you create a growth plan that is sustainable. A plan that is also faster than what you could achieve yourself.
A lot of our clients come to us so we can show them a defined path and fast-track their success. They decide they're done with the chaos, and they reach out to us for help to:
Attract and train the right people to build an independently thinking and acting team
Hone in on their bigger purpose as an organization and align their company with their values
Develop a step-by-step, personalized success playbook for their organization, based on our proprietary proven process
Consistently track, measure, and optimize performance within their organization
Become more profitable, more financially stable, and more attractive to potential future investors or even buyers
That's the biggest win they get from our coaching—freedom from the chaos, clarity in their vision, and accountability to build the scalable, profitable company they truly desire.
Steering Your Growth
Undirected growth is chaotic, stressful, and capable of destroying successful companies. WeWork is a classic example of that. A good coach helps you create a sustainable growth plan.
As a leader, the decisions you are making today are sowing the seeds of growth and stability (or chaos and instability) for years to come.
With every choice you make on a day-to-day basis, you are guiding your business further down the path it's on right now. With a coach by your side, you can make these decisions from a place of perspective, discernment, strategy, and aligned leadership.
Want a quick way to assess what's broken in your business & start clearing the overwhelm? Get started with our free Business Accelerator Workbook, The 5-Step Proven Strategy to Cut Through the Chaos & Accelerate Your Business With Clarity.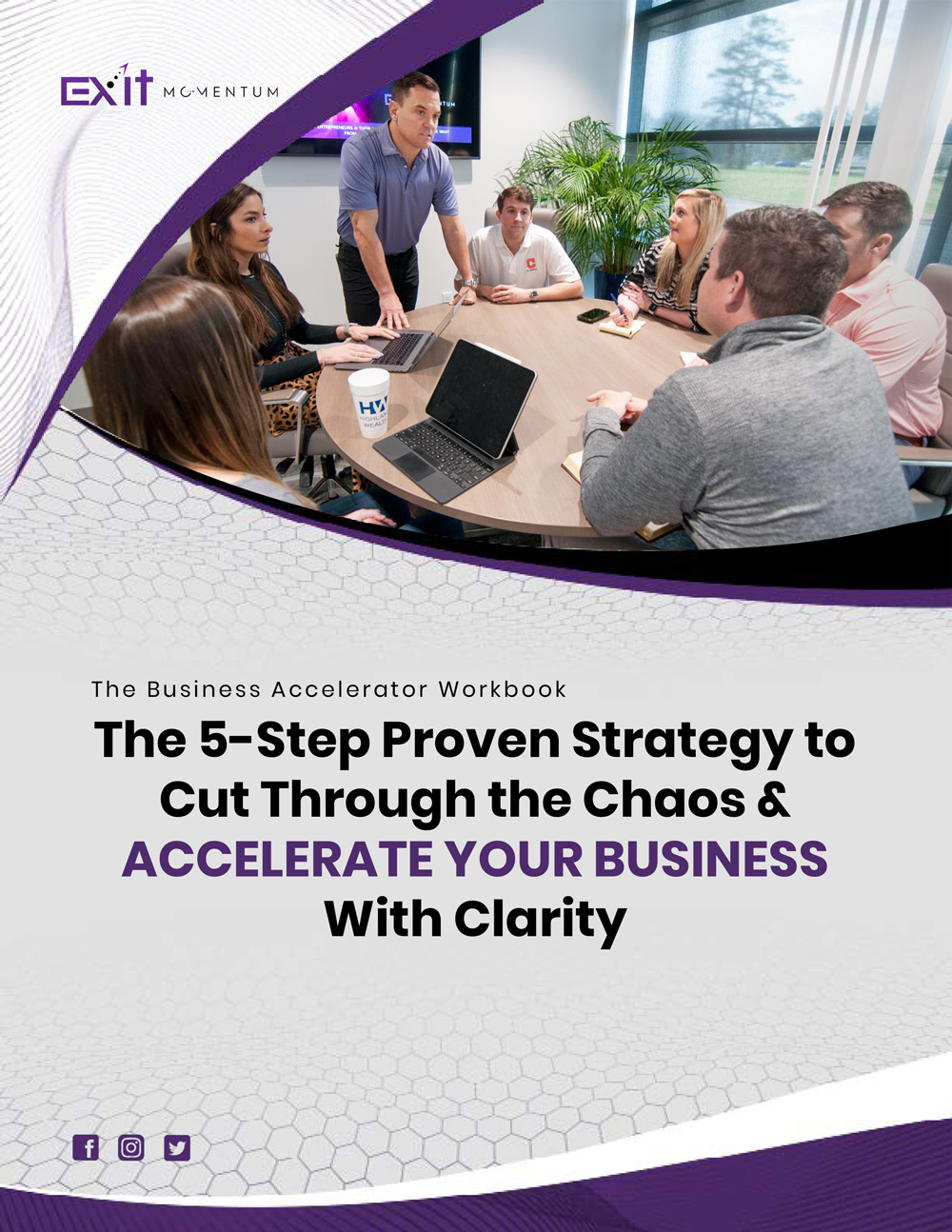 Free Business Growth Strategies Guide!
5 Steps to Cut Through the Chaos, Clarify Your Focus, & Scale Your Business Fast
Not sure where to start? These 5 simple-yet-powerful steps will help you get a grip on your business, so you can start growing from a place of clarity, focus, and strategy.
Your Cheat Code to Invisible Minefields
Growth is unchartered territory. When you don't know what to expect and everything is on you, it's not easy to know the best way forward.
A good coach is someone who has done this before. They have built businesses to the level that you want to reach. They have done it in multiple industries. They have made mistakes in their own ventures and led their clients to predictable success. In essence, a great business coach is like having a "cheat code" in your business that can ensure you avoid those minefields and pitfalls so many entrepreneurs fall into.
Build Robust Systems & Processes
Growth is a curse without scalable systems. Without the right processes in place, wild growth can lead to additional stress, more turnover, and poor client experience.
If you want your business to grow from a place of clarity and momentum, systems are key. As a leader, you need better and faster access to data to make decisions. A good coach can help you build systems based on their past actions and experiences.
At Exit Momentum, our Business Coaches remove almost all the trial and error for our clients by helping them set up systems that scale right from the start. Thanks to our proven process, we don't have to guess at what will or won't work in our clients' businesses. We're able to guide you through creating smarter, more robust processes from day one of our work together.
Build Your Team
As your business grows, it becomes less about you and more about whether or not you've built the right team to support your vision. Attracting, coaching, and retaining the right people is a vital part of your growth.
We help our clients attract the high-value, independently thinking team members who feel invested in the company vision and aligned with your business' values. We help our clients create effective onboarding for their employees, set and track the right performance metrics, develop strategies for increased productivity and innovation, and ultimately, remove themselves as a regular team member in the organization.
Building a great team is a massive responsibility for any leader. While it's possible that you could eventually figure this out with enough trial-and-error, constructing a team to support your vision becomes a LOT easier and faster when you have the support of an experienced business coach.
Lead With Confidence
Being the leader of a mid-sized business is very different from being a leader of the kind of scalable, profitable business you want to build.
To reach your next level, you need to adapt to a new role as a leader of a much bigger business that needs different things from you. You need to communicate with more clarity and confidence. You have to learn how to be the laser-focused coach and the inspiring cheerleader for your team.
Most of all, you need to become the keeper of the vision and the source of their morale. This is hard to do when you're bogged down in the day-to-day semantics of running a company.
A good business coach helps you see your strengths and areas of improvement in your personal growth and help you become the best leader you can be.
Get Clarity & Accountability
As a leader, everything is on you. It's an awesome responsibility, because you get to build a freedom-centered company that defines your legacy and makes you proud. At the same time though, it's challenging—if it were easy to be the boss, everyone would do it.
A good coach gives you the clarity, accountability, and structure you need to perform at your highest level, so you can focus on achieving the goals you have set for your business.
How Do I Choose a Business Coach?
A great place to start with assessing a potential business coach is to ask about and research what systems they teach. Look at their credentials, their experience, and the businesses they have built and helped to shape. Most of all, look at the systems and frameworks they teach as a part of their coaching and the client results.
A great coach should come to the table with clear evidence of their mentorship abilities, a proven process to shortcut your success, and an intense dedication to helping you thrive as the leader of your successful business.
Curious about our proven process and whether an Exit Momentum Business Coach might be the right fit to coach you to success?
Check out our Business Accelerator Workbook, The 5-Step Proven Strategy to Cut Through the Chaos & Accelerate Your Business With Clarity, to learn what we're all about.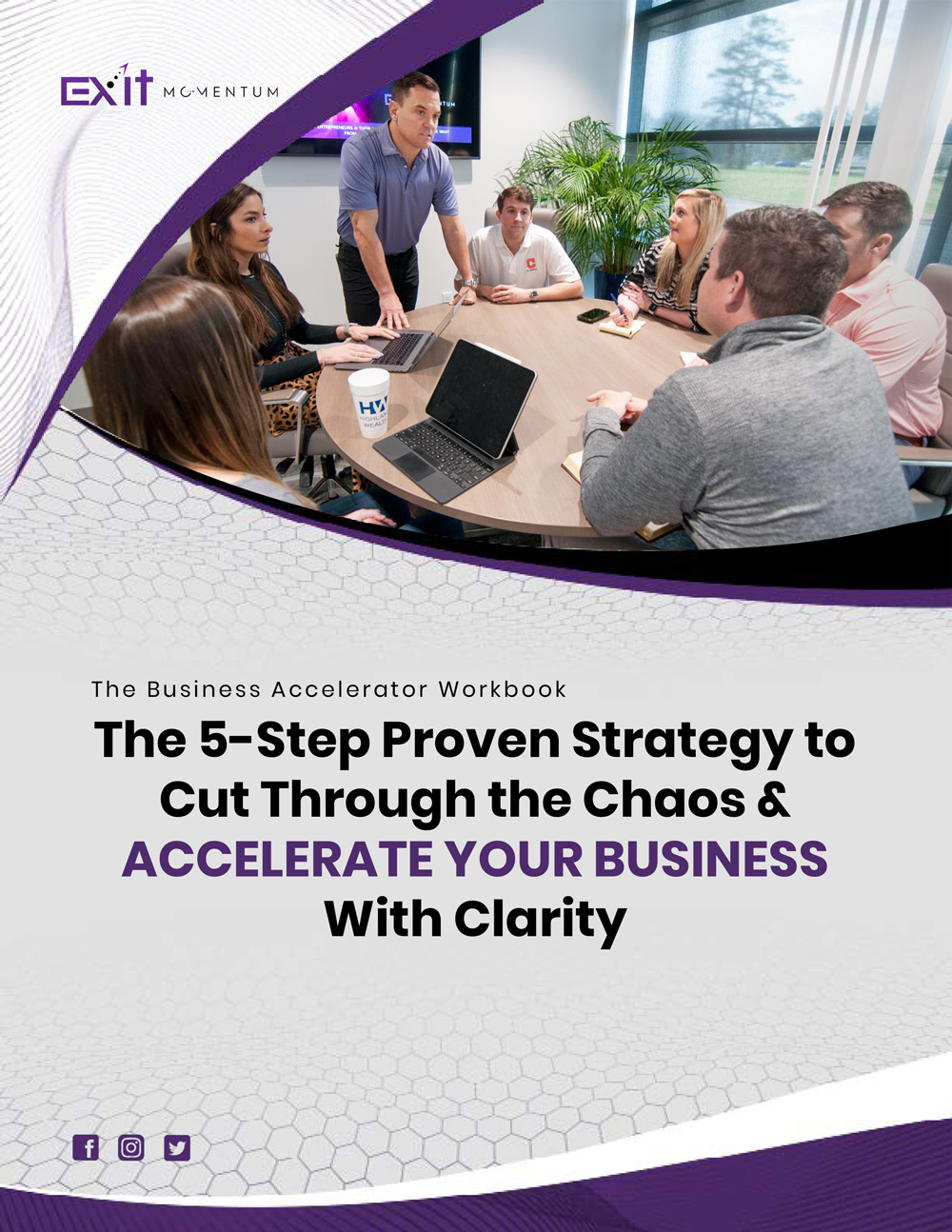 Free Business Growth Strategies Guide!
5 Steps to Cut Through the Chaos, Clarify Your Focus, & Scale Your Business Fast
Not sure where to start? These 5 simple-yet-powerful steps will help you get a grip on your business, so you can start growing from a place of clarity, focus, and strategy.