You're done with spinning your wheels and ready to invest in a mentor who can help you reach the next level of success in your business with intention, strategy, clarity, and accountability. The only hard part? You have no idea who to trust—or even what type of business mentor is the best fit for your company, your current needs, and your future goals.
In the dynamic and ever-evolving world of business, choosing a mentor who provides the right balance of structure, wisdom, guidance, and strategy is key. In this article, we'll explore three of the most common types of business mentors—business coaches, business consultants, and leadership development consultants. You'll learn what each of these different types of mentors brings to the table, and how to discern what type of guide will be the best fit based on your company's specific obstacles and objectives.
What Are Business Coaches, Consultants, & Leadership Development Coaches?
By definition, a business coach is a "seasoned professional who enables startups, entrepreneurs, and corporate leaders with advice and feedback based on their real business needs." In reality though, a great business coach's work goes far beyond advice and feedback.
A business coach is someone who has the ability to not only advise you—but to help you develop the specific set of skills you need to become the business leader you want to be. Depending on your specific challenges, goals, and vision, your business coach may help you:
Create a business plan
Discern which of your ideas are most worth pursuing
Grow as a leader and visionary in your business
Navigate immediate obstacles and questions
At its core, business coaching should be based on results. Your business coach should hold you accountable to your vision, set expectations, and help you build the momentum you need to move from talking about your goals, to actually achieving them.
"Consultant" is one of those words that gets thrown around a lot in the business world—despite the fact that defining what exactly a "consultant" does can be challenging. This is because consultants are generally, at their core, subject matter experts. They have advanced knowledge in a specific field and are typically hired to advise on their area of expertise.
According to HubSpot, a consultant is "a person who's an expert in a particular field who gives professional advice to individuals and businesses in their area of expertise, usually on a temporary or contract basis until a particular need has been met."
Practically speaking, a consultant's work tends to be less directive and more research and report-oriented. A consultant might:
Analyze the problem they've been tasked with solving.
Ask thoughtful questions to get to the root of the problem.
Provide a report to the business owner
However, they're not typically available to help implement the solutions they help to create. For this reason, Consultants may be a better fit for more corporate companies, with large existing leadership teams who can help implement the plans constructed with the consultant's support.
Leadership Development is a particular type of coaching focused specifically on enhancing the business owner's and/or leadership team's leadership skills. A leadership development program is
"a proven systematic methodology to assess and enhance the leadership abilities of Executives within an organization."
In other words, the idea is that the business owner and other leaders in the organization follow a specific set of steps to grow, develop, and perform more effectively as the leader of the company.
A Leadership Development Coach is, of course, focused first and foremost on their clients' effectiveness as a leader. They don't generally get involved in other business matters or advise on issues beyond the scope of team-building.
Working with a Leadership Development Coach is often a long-term process in which the coach is constantly assessing and identifying potential areas of growth. They work with the business owner to develop a plan to grow over time, then shift into a mode of constantly assessing and analyzing to calibrate the business owner's ability to lead over time.
Which Type of Business Mentor Is Right For You?
Ultimately, choosing the right mentor to lead you in your business' next season is an extremely personal decision. From a high-level, many small and mid-size business owners feel most comfortable working alongside a business coach, because they value the highly individualized experience, personalized feedback, and results-based focus of business coaching.
Business owners in a more corporate environment may benefit from working with a Consultant—or even a team of Consultants, with specific areas of expertise that align with the organization's needs.
Likewise, Leadership Development Coaching can be a great fit for business owners who feel confident and stable in all non-team-related areas of their business. If showing up as a stronger leader and building out your leadership team is your top area of priority, working alongside someone who specializes in leadership specifically can be a great way to catalyze your growth.
Over decades of working with business owners to achieve their visions, we've seen entrepreneurs experience amazing results working with all different types of mentors. Some business owners prefer to hire experts in all three fields at once to catapult their company forward; others may hire one mentor at a time to focus on different components of their business at different times.
The important thing is choosing the mentor whose individual expertise best aligns with the problems you're looking to solve and the results you're looking to create.
Whether you're searching for your next business coach, consultant, leadership development coach, or something entirely different, be sure to properly vet the person or team you're considering working with. Ask for client case studies—and be sure to look for tangible examples of real results, not just kind feedback from a small handful of clients. While titles can tell you a lot about a mentor's area of expertise and past experience, selecting the right human for the job is ultimately more important than getting caught up on labels.
At Exit Momentum, you'll get a business coach with a comprehensive outlook on your company and the expertise to break your vision down into actionable, strategic steps.
Our methodology includes an intentional focus on leadership development—backed by a process that gets to the root cause of all the chaos and frustration you've experienced in your business so far. We believe your business is a holistic entity, and that approaching your business strategy with anything but a comprehensive perspective is merely treating symptoms. We're here to provide a "cure" for the chaos you've endured, and to guide you into a future rooted in hope, fulfillment, clarity, and scalable success.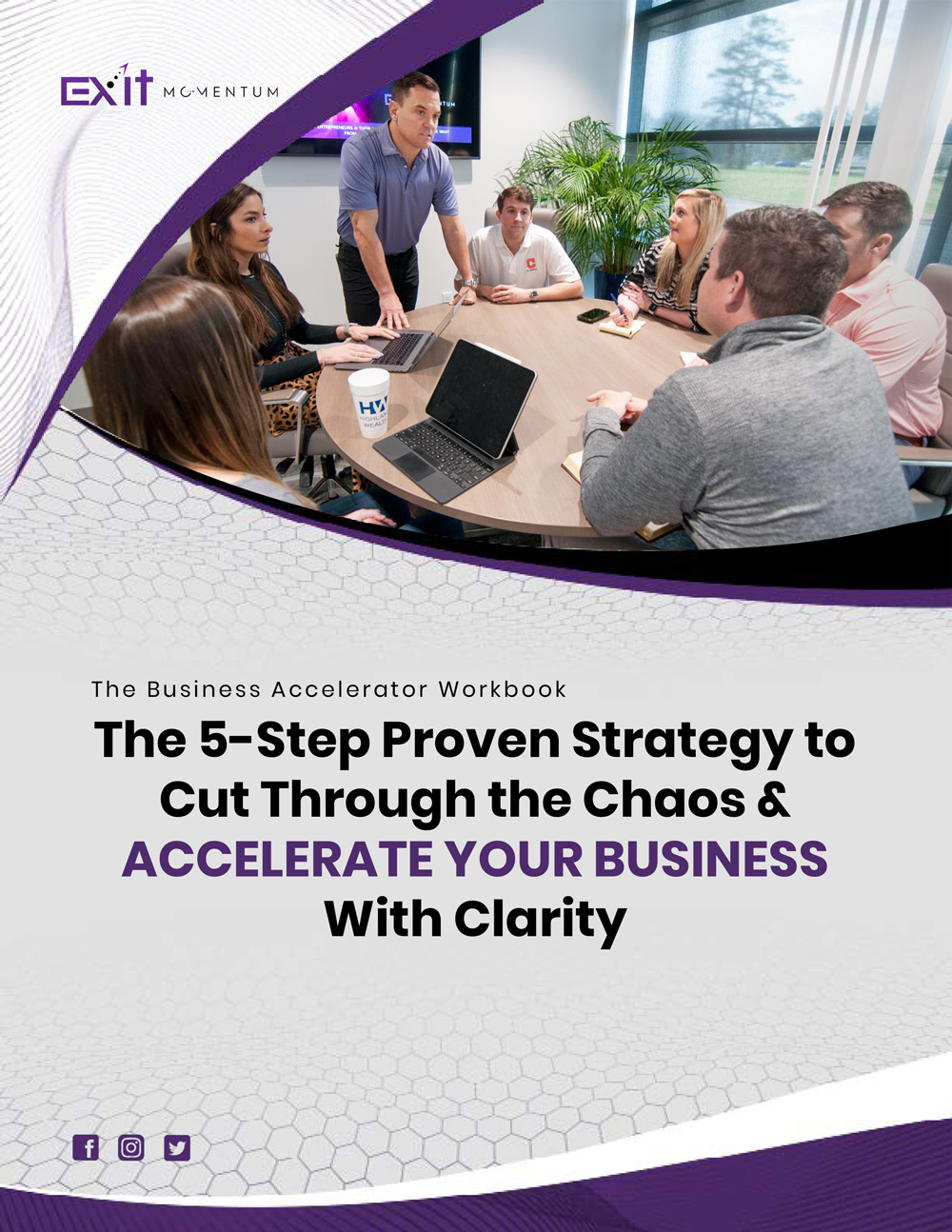 Free Business Growth Strategies Guide!
5 Steps to Cut Through the Chaos, Clarify Your Focus, & Scale Your Business Fast
Not sure where to start? These 5 simple-yet-powerful steps will help you get a grip on your business, so you can start growing from a place of clarity, focus, and strategy.
If you're looking for a niche industry consultant, we won't be the right fit. However, if what you're looking for is a highly experienced coach who will fight in your corner and help you find the "how" behind the life and business you want to create—our proven 5-part process is designed to provide the clarity, strategy, and accountability you need to build momentum and crush your goals in record time. Book a call here to find out whether one of our coaches is the right business mentor for you.